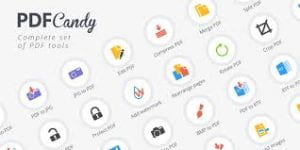 So, I completely forgot about this fabulous, free online tool, but it came to mind when a teacher asked for help merging some documents.  PDF Candy currently offers 44 different tools serving a multitude of user needs.  I originally used this tool to merge documents, but I was amazed by all the other options.   For instance, it comes with an option to convert a PDF  to Word or vice versa.  It also has a PDF Editor (honestly, how many times have you needed that) and allows you to delete and rearrange pages.  You can also use it to lock and unlock PDFs.  Even better, you can pull documents from your computer or Google Drive and then place the finalized document on your desktop or back in Google Drive.  Did I mention it is free?  It you are in need of manipulating documents, take a few minutes  to check out PDF Candy.
Check out Mrs. Crowder and her awesome Google Slides.  Her Bitmoji joined in the fun to engage her students as they learn about revising and editing their writing.  Now that everyone has gotten comfortable with making video lessons, what are some cool and fun ways to make your videos or slides more engaging.  Be on the lookout for more staff shouts outs as we blaze a trail for digital learning.
Finally, don't forget I offer a technology training help on Mondays from 1:00 to 2:oo.  I just hang out answering questions or visit with staff.  Tomorrow, please join me to answer any questions or brainstorm ideas for having students read with their teachers.  We can talk about Flipgrid, or setting up smaller Google  Meets.  If you have an idea you want to try, come and share it.  See you there!